Previous Games
Each year the First organisation develops a challenge. FRC teams build robots to complete the challenges of the game in a head-to head 3v3 competition.
2022 Rapid React
Rapid React is played by two alliances of three teams each, with each team controlling a robot and completing specific actions in order to score points. The game revolves around both alliances shooting inflatable balls known as Cargo into a central Hub and climbing within their Hangars at the end of the match. The overall objective of each match is to score more points than the opposing alliance before the match ends.
Due to COVID we were unable to compete in 2022
The Game Reveal Animation
2020 Infinite Recharge
The Infinite Recharge game involves two alliances of three teams each, with each team controlling a robot and performing specific tasks on a field to score points. The game centers around a futuristic city theme involving two alliances consisting of three teams each competing to perform various tasks, including shooting foam balls known as Power Cells into high and low goals to activate a Shield Generator, manipulating a Control Panel to activate this shield, and returning to the Shield Generator to park or climb at the end of the match. The objective is to energize and activate the shield before the match ends and asteroids strike FIRST City, a futuristic city modeled after Star Wars.
Due to COVID the 2020 season was cancelled before we could compete
The Game Reveal Animation
2019 Destination Deep Space
Two competing alliances are collecting samples on planet Primus. Unpredictable terrain and weather patterns make remote robot operation essential to their mission on the planet. With only 2:30 until liftoff, the alliances must gather as many cargo pods as possible and prepare their spaceships before the next sandstorm arrives. Two alliances of 3 robots each must collect "Cargo" (large orange balls) and place them into cargo bays in their rockets and cargo ship. However, to prevent cargo from falling out, "Hatch Panels" (large polycarbonate disks) must be placed over the cargo bays. During the "Sandstorm" period the drivers' and operators' view is blocked by a curtain. Robots must operate autonomously or using cameras and sensors until the sandstorm ends. Teams then continue to collect and deploy Cargo and Hatch Panels with full visibility. At the end of the match, robots can earn additional points by climbing back onto their alliance's habitat platform.
The Game Reveal Animation
Our Robot: Polar Vortex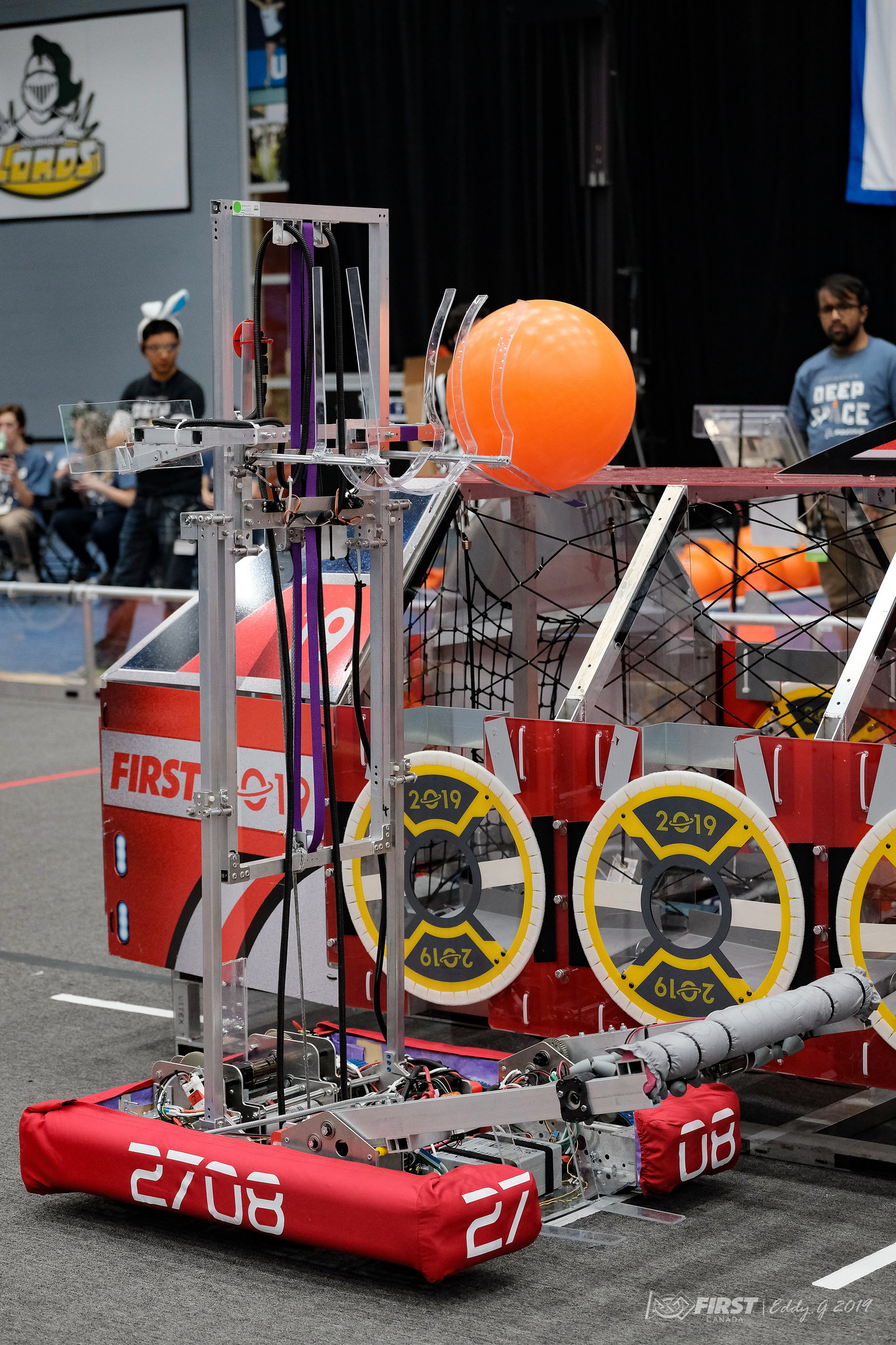 Lake Effect Robotics won the following awards:
Imagery Award (Archimedes/Daly fields at Detroit Championship)
Imagery Award (York University Event)